Posted by Ishrat Khawja on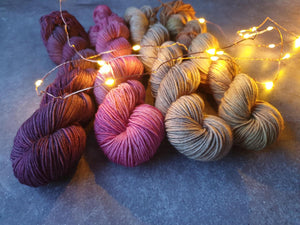 Virtual Yarn Shows I'm sure I'm not the only one that keeps thinking about all the plans they'd made for 2020. And now as we come to the end of lockdown in the UK, we are told of local lockdowns that are due to start straight after! As anxiety-inducing, frustrating and sad (with the loss of a loved one) a time it has been, I am grateful for the virtual connections and re-connections I've made. I hope you're managing to keep in touch with loved ones and your local community somehow.    Yorkshire Yarn Fest  So to see 2020 off...
Posted by Ishrat Khawja on
Some of you might be avid watchers of the Fruity Knitting podcast and will be aware of Andrew's brain tumour diagnosis. If not, this is where they bravely announced the situation. I was deeply saddened by this news. So when Kathryn of Crafternoon Treats posted her idea of forming a Fruity Knitting Yarn community project, I knew I wanted to join in! My Fruity Knitting colourway pre-order will go live tomorrow Sunday 22nd November, 2020 at 10 am GMT. It will be available on Merino Nylon 4-ply and BFL 4-ply. £5 from the sale of each skein will be donated...