Posted by Ishrat Khawja on
An Exciting Update! Ramadan Wool Club has some extra boxes available for purchase! If you missed the first round, you still have a chance to grab a box! Round 2 of preorders will open from 26th December to 7th January, 2023. This is our third year in a row offering this yarn club: a special collaboration between five talented Muslim independent dyers: Abuelita Fiber Company, Aquarius Make, Fruitful Fusion, Hawari Bazaar Yarn Co. and Knitting Niqabi.  The Ramadan Wool Club is available in 2 options: 30 Nights of Wool - 30 x 20g mini skeins dyed between the 5 dyers and several extra goodies. 5 Blessed Fridays...
Posted by Ishrat Khawja on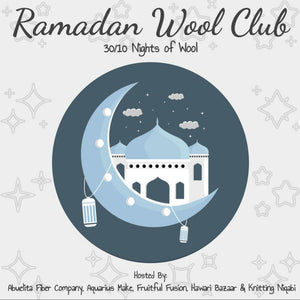 Remember the exciting collaboration, earlier this year?! Five indie dyers and 30 days of yarn during the Islamic month of Ramadan! We're running it again and pre-orders are now live! The first time around, we were quite rushed. We encountered some postage issues and teething problems and so we're giving ourselves plenty of time to put together this wonderful box for you!Who are the dyers? Abuelita Fiber Company - Fatima creates beautiful naturally dyed yarn on non-superwash bases, sourced locally in Virginia, USA. She'll be heading to the farms to get all of the wool for our boxes! Aquarius Make - Another lovely...