Posted by Ishrat Khawja on
An Exciting Update! Ramadan Wool Club has some extra boxes available for purchase! If you missed the first round, you still have a chance to grab a box! Round 2 of preorders will open from 26th December to 7th January, 2023. This is our third year in a row offering this yarn club: a special collaboration between five talented Muslim independent dyers: Abuelita Fiber Company, Aquarius Make, Fruitful Fusion, Hawari Bazaar Yarn Co. and Knitting Niqabi.  The Ramadan Wool Club is available in 2 options: 30 Nights of Wool - 30 x 20g mini skeins dyed between the 5 dyers and several extra goodies. 5 Blessed Fridays...
Posted by Ishrat Khawja on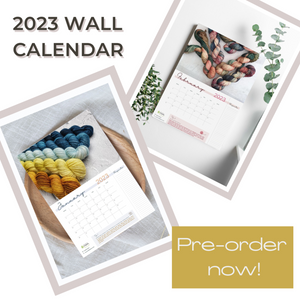 I've been working with this amazing illustrator and graphic designer, to produce our 2023 Wall Calendar! Her name is Assiya Larouci and she's only 17, but she's done an amazing job with my yarn photos. These calendars are now available to pre-order, for a limited time, so I can get them out to you before the new year! So if you're after a yarn-themed calendar (who doesn't want some yarn on their walls?) to help you stay organised in 2023, you can order your calendar here!  The calendar is A3-sized and printed on 200 gsm silk paper so it's easy...